C'est donc cette nuit que s'est ouvert la dixième édition des Video Game Awards. Le Show m'a paru beaucoup plus dynamique que les éditions précédentes et en prime on a eu droit à pas mal de nouvelles videos exclusives.
Cette année c'est Samuel L. Jackson qui menait la barre et on peut dire qu'il a donné de sa personne.
Le show a débuté à 3 heure du matin heure française et on a été rapidement mis dans l'ambiance avec South Park: The Stick of Truth :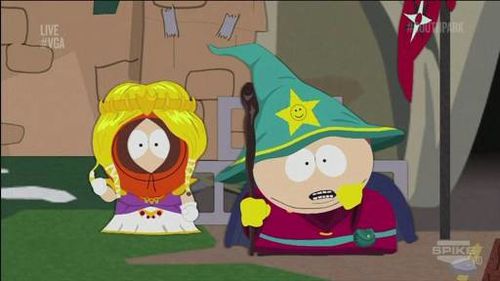 Une partie du casting de the walking dead est venue remettre le prix du meilleur shooter à boderlands 2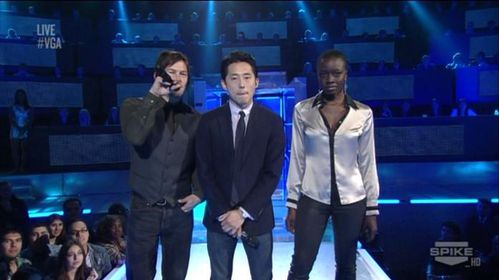 Voici la grosse claque de la soirée, The Phantom Pain. Pour le moment on ne dispose d'aucune info sur le jeu à part que c'est une video de gameplay. Forcément en voyant la fin de la video on pense à Metal Gear certain ont des théories intéressantes à ce sujet.
Comme chaque année les personnages en lice pour le character of the year sont mis en scène dans des clip bien sympa :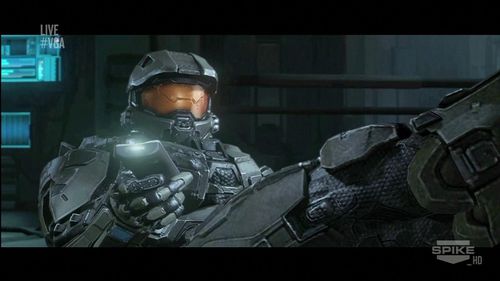 Lorne Balfe est venu nous faire une petite compilation des meilleures musiques de jeu de l'année :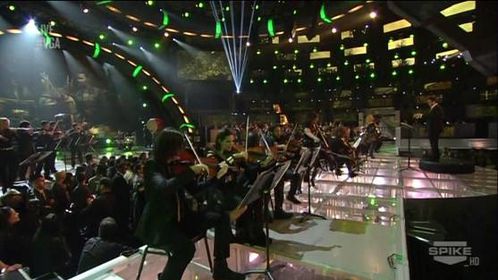 Connor est ensuite venu faire sa promo :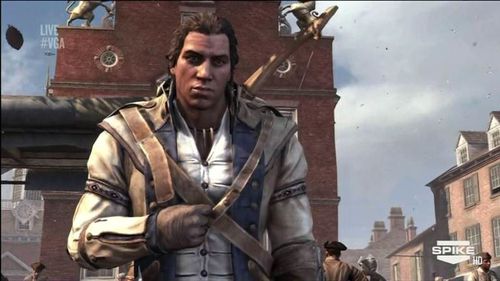 The Last Of Us s'est ensuite illustré avec une date de sortie pas si lointaine fixée au 7 mai 2013 :
Pas le temps de respirer, que l'on nous annonce la video de Castlevania Lords of Shadow 2 :
On continue avec les nominations du "character of the year" :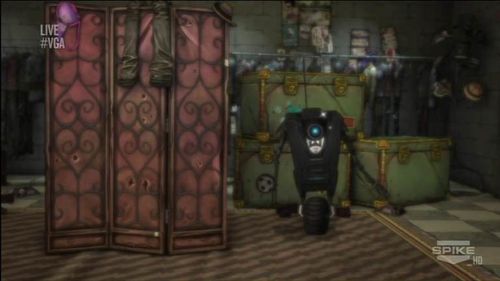 Jessica Alba ♥ vient nous annoncer Dark Souls II ♥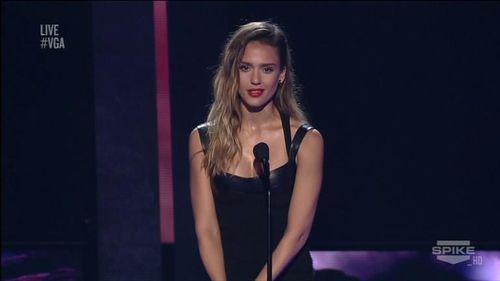 Elle a ensuite remis le prix du meilleur jeu d'Action Aventure à Dishonored.
Black Ops 2 a aussi sa place dans les character of the year :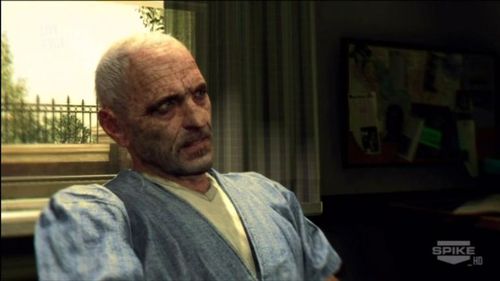 C'est ensuite à Linkin Park de nous interprété le titre qu'ils avaient composé pour le jeu Medal Of Honor :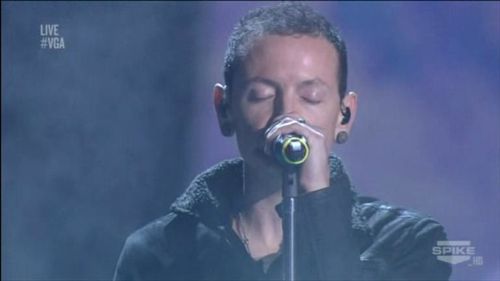 Journey est élu meilleur jeu indé.
Snoop Lion qui passait par là a fait le lancement d'Assassin's Creed III – Tyranny of King Washington :
Shepard rentre alors en campagne pour les character of the year :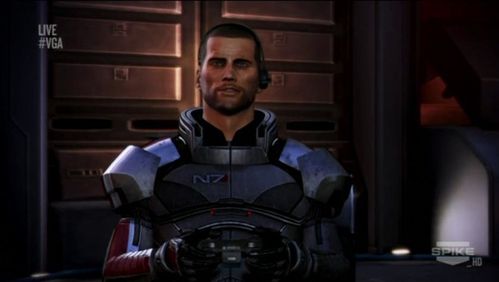 Vient ensuite la video de Gears Of War Judgment...
La nouvelle Lara Croft, camilla luddington, vient lancer la video du jeu.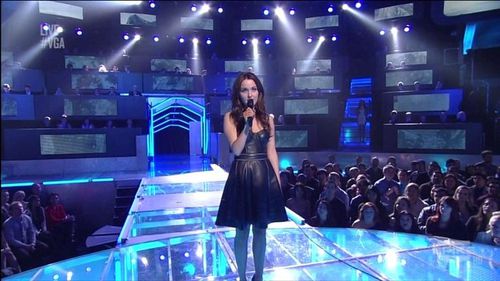 C'est finalement Clap Trap de Borderlands 2 qui est élu character of the year :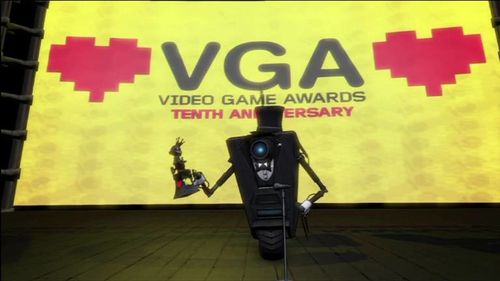 Half Life 2 est élu jeu de la décennie :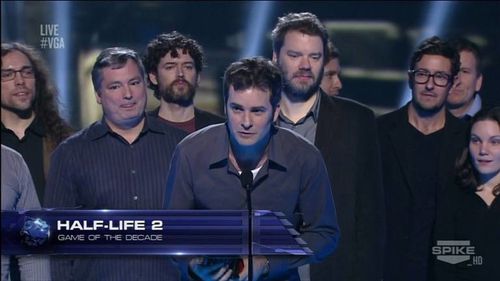 Puis arrive la video de Bioshock Infinity :
La soirée se termine, The Walking Dead est élu jeu de l'année :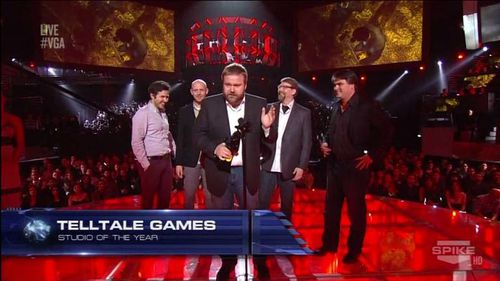 Quoi de mieux que du rock avec Tenacious D le groupe de Jack Black et Kyle Gass pour conclure la soirée.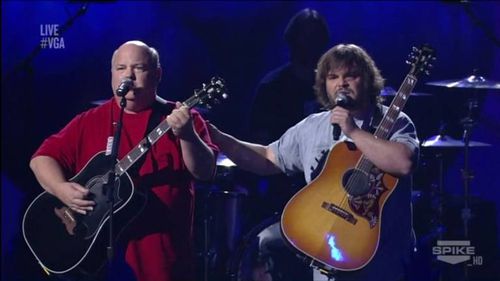 Game of the Year
Assassin's Creed III
Dishonored
Journey
Mass Effect 3
The Walking Dead: The Game
Studio of the Year
343 Industries
Arkane Studios
Gearbox Software
Telltale Games
Best Xbox 360 Game
Assassin's Creed III
Borderlands 2
Dishonored
Halo 4
Best PS3 Game
Assassin's Creed III
Borderlands 2
Dishonored
Journey
Best Wii/Wii U Game
New Super Mario Bros. U
The Last Story
Xenoblade Chronicles
ZombiU
Best PC Game
Diablo III
Guild Wars 2
Torchlight II
XCOM: Enemy Unknown
Best Shooter
Borderlands 2
Call of Duty: Black Ops II
Halo 4
Max Payne 3
Best Action Adventure Game
Assassin's Creed III
Darksiders II
Dishonored
Sleeping Dogs
Best RPG
Diablo III
Mass Effect 3
Torchlight II
Xenoblade Chronicles
Best Multiplayer Game
Borderlands 2
Call of Duty: Black Ops II
Guild Wars 2
Halo 4
Best Individual Sports Game
Hot Shots Golf: World Invitational
SSX
Tiger Woods PGA Tour 13
WWE '13
Best Team Sports Game
FIFA Soccer 13
Madden NFL 13
NBA 2K13
NHL 13
Best Driving Game
DiRT: Showdown
F1 2012
Forza Horizon
Need for Speed: Most Wanted
Best Song in a Game
"Castle of Glass" by Linkin Park – Medal of Honor: Warfighter
"Cities" by Beck – Sound Shapes
"I was Born for This" by Austin Wintory – Journey
"Tears" by Health – Max Payne 3
Best Original Score
Call of Duty: Black Ops II
Halo 4
Journey
Max Payne 3
Best Graphics
Assassin's Creed III
Dishonored
Halo 4
Journey
Best Independent Game
Gust: An Elysian Tail
Fez
Journey
Mark of the Ninja
Best Fighting Game
Dead or Alive 5
Persona 4 Arena
Street Fighter X Tekken
Tekken Tag Tournament 2
Best Mobile/Handheld Game
Gravity Rush
LittleBigPlanet PS Vita
New Super Mario Bros. 2
Sound Shapes
Best Performance by a Human Female
Emma Stone as Amanda Cartwright – Sleeping Dogs
Jen Taylor as Cortana – Halo 4
Jennifer Hale as Commander Shepard – Mass Effect 3
Melissa Hutchison as Clementine – The Walking Dead
Best Performance by a Human Male
Daemon Clarke as Handsome Jack – Borderlands 2
Dave Fenno as Lee Everret – The Walking Dead
James McCaffrey as Max Payne – Max Payne 3
Nolan North as Captain Martin Walker – Spec Ops: The Line
Best Adapted Video Game
Epic Mickey 2: The Power of Two
LEGO Batman 2: DC Super Heroes
The Walking Dead: The Game
Transformers: Fall of Cybertron
Best DLC
Dawnguard – The Elder Scrolls V: Skyrim
Leviathan – Mass Effect 3
Mechromancer Pack – Borderlands 2
Perpetual Testing Initiative – Portal 2
Best Downloadable Game
Fez
Journey
Sound Shapes
The Walking Dead: The Game
Best Social Game
Drawn Something
Marvel: Avengers Alliance
SimCity Social
You Don't Know Jack
Most Anticipated
BioShock Infinite
Grand Theft Auto V
South Park: The Stick of Truth
The Last of Us
Tomb Raider
Game of the Decade
The Legend of Zelda: The Wind Waker
Half-Life 2
World of Warcraft
Shadow of the Colossus
Wii Sports
BioShock
Portal
Mass Effect 2
Red Dead Redemption
Batman: Arkham City
Character of the Year
Connor Kenway – Assassin's Creed III
Commander Shepard – Mass Effect 3
Clap Trap – Borderlands 2
Master Chief – Halo 4
Raul Menendez – Call of Duty: Black Ops II